Today I'm linking up with
Mallory
and
Stephanie
for the second link-up in the Boys Behind the Blog series. I don't normally do this many link-ups in a week, but this one is monthly and I just couldn't pass it up.
I missed the first one of these, but I look forward to having more of Joshua's presence on my blog, and hearing his answers to these questions! After writing on my blog for a long time and only mentioning him in posts, I decided to decided a post entirely to him called
All About J
.
1. What celebrity would play you in a movie about your life?
- Jim Carrey
2. What is your dream car?
- A Bugatti Veyron
3. Do you have any tattoos? What, where, why?
- I don't have any tattoos.
4. Boxers or briefs?
- Boxers or boxer briefs.
5. List three random facts about yourself...
- I'm funny.
- I like to shoot.
- No matter how much he sleeps he's always tired.*
*The second fact was as far as we got, I'm adding in the last one. :)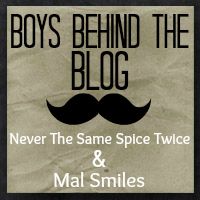 Happy Thursday! :)