This past week all of the dinners I made were taken from Pinterest. Some I loved, but most I didn't. I have to admit that I didn't follow all of the recipes correctly. I am horrible at paying attention to measurements of certain things, like veggies and noodles.
I get off work at 6:15p every day except for Fridays, and by the time I get home it's easily past 7p. I am starving by the time I get home, the quicker I can whip something up- the better! Starting this week, I will have school on Tuesday nights and I won't get home until almost 11p. That's a whole new set of challenges...
Winner:
The one recipe I absolutely loved is
Angel Hair with Tomatoes & Pine Nuts
*. Oh my goodness, it was absolutely fantastic. It was quick and so easy. I switched this baby up a little, and am pleased with how it came out. I roasted the garlic and pine nuts, added the tomatoes to let them warm, them threw in some spinach a minute or two before the "sauce" was done. This dish will definitely be my go-to from now on when I don't have anything planned.
Try It Again:
The two recipes that I'd like to try again, but make differently are
Crock Pot Lasagna Soup
and
Chicken Fried Rice
. They didn't taste quite right and über delicious like the recipes claimed. I think some tweaking, aka follow the recipe to the tee, will fix that. I have high hopes for them!
Side Lined:
I should've known this one wasn't going to work out, I don't like peas unless it's in Tuna a la King.
Cheese Tortellini & Peas
* was a no go for me. It was really simple to make, which I loved but it didn't have the flavor I was hoping for.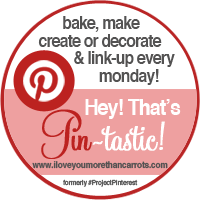 I am making four meals taken from Pinterest this week. Hopefully they'll all be winners!

Comments from here on out will have to be approved/monitored due to a crazy amount of spam comments I've been receiving lately, I apologize in advance. I know it's annoying.


Hope you don't have a case of the Mondays... (:

*Both recipes were taken from
this pin
.